Mix & Match Puzzle: Silly Trucks (Jigsaw)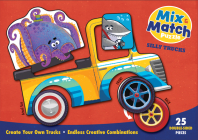 $14.95
Email or call for price.
Description
---
Not all jigsaw puzzles are alike, and Mix & Match Puzzle: Silly Trucks is definitely not your classic puzzle.
With 25 double-sided pieces resulting in 50 options and countless combinations, kids will love creating their own vehicle by picking the truck's body, the type of wheels and cargo, and even the driver. Mix & Match Puzzle: Silly Trucks allows kids to make up to five individual trucks at a time with a multitude of variations, and since the idea is to have fun, this puzzle features colorful trucks, some questionable drivers (a bear?!), and unexpected cargo (a clan of clowns!). Mix & Match Puzzle: Silly Trucks is a great way for kids to be creative and have tons of fun.
Included inside the box:
5 double-sided pickup truck body pieces / 10 options
10 double-sided sets of wheel pieces / 20 options or 40 combinations
5 double-sided driver pieces / 10 options
5 double-sided cargo pieces / 10 options
About the Author
---
duopress labs creates innovative books and gifts for children and adults. Recent titles include the TummyTime®, Terra Babies, SmartFlash™, and High-Contrast series; The Belly Sticker Book; 100 Pablo Picassos; My Fridge; and A Good Deck.

Josh Cleland is an illustrator working out of his home studio just outside of Portland, Oregon, where he resides with his wife, Rayna. You will find his work in various children's magazines, including Highlights and Storytime, and in other media such as greeting cards, websites, billboards, and more. His recent illustrated children's books include TAD and Portland Baby.