The Skyrim Library - Volumes I, II & III (Box Set) (Hardcover)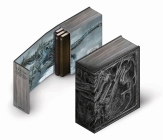 $105.00

Usually Ships in 1-5 Days
Description
---
Presented for the first time ever, the 3 volume set of The Elder Scrolls V: Skyrim Library enclosed in a deluxe slipcase.


     For the first time, the collected texts from the critically and commercially acclaimed fantasy video game The Elder Scrolls V: Skyrim are bound together in three exciting volumes. Lavishly illustrated and produced, these titles are straight out of the world of Skyrim - and a must for any wandering adventurer. Delve deeper into the lore behind one of the most successful and critically acclaimed fantasy games of all time, Skyrim. Featuring in-game texts on factions, landscapes, creatures, heroes, and dragons.
About the Author
---
Bethesda Softworks has been a developer and publisher of interactive content for over two decades. Their stable of games includes critically and commercially praised franchises such as Fallout, Doom, Wolfenstein, Dishonored and The Elder Scrolls - the latter being the bestselling fantasy video game series of all time.