Germs (Big science for little minds) (Hardcover)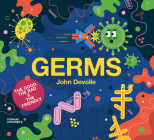 Description
---
This book will blow your child's mind! Big Science explained simply

The perfect picturebook to introduce little minds to big ideas!

Germs combines bold, colourful illustrations with jokes and incredible science facts to introduce young readers to the fascinating, yucky world of... you guessed it: germs! In just 32 pages they'll learn about viruses and bacteria, vaccines and antibiotics, as well as finding out the answers to such important questions as: Why shouldn't we sneeze in people's faces? Should you eat that old sausage you found in your coat pocket? (Spoiler alert: no) and What were toilets like in the olden days?
About the Author
---
John Devolle studied Fine Art at the University of Westminster and has since run an art gallery in East London, been a graphic designer / art director, and, since 2010, worked as an illustrator on numerous children's books. John currently lives and works in Dublin.