John Muir Notecards (Cards)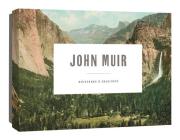 $14.95
Email or call for price.
Description
---
Known in his lifetime as Mountain John, no one did as much to foster appreciation for the natural beauty of the American landscape as John Muir. The Scottish-born naturalist walked thousands of miles across the United States, but loved, above all, California, the Sierra Nevada, and Yosemite. His prolific writings—three hundred articles and ten books—and passionate prose about nature and our place in it were read by millions of nineteenth century Americans, leading to the creation of our national park system. He also founded the Sierra Club, which carries on his program of conservation and preservation 125 years later. His words ring truer than ever today, potent reminders to protect the natural splendors of our land and to root our spirits in nature.
Praise For…
---
"We love these pretty John Muir Notecards. Muir's potent reminders to protect and preserve our natural splendors and root our spirits in nature ring particularly true today."
- Sierra