My Big Wimmelpuzzle—Animals Around the World Floor Puzzle, 48-Piece (Children's Puzzles, Ages 3 and Up) (Jigsaw)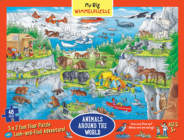 Description
---
Introducing My Big Wimmelpuzzles! Panoramic puzzles packed with hours of look-and-find learning and fun, from the acclaimed kid's book series known to "make any parent's heart sing" (The New York Times Book Review)
From the My Big Wimmelbook® series, these action-packed floor puzzles will keep little ones captivated as they seek out the characters hidden in each scene, each one busy doing something. Can you spot Amir and John? What are they doing? Which animals do they see? Who are Pip and Pat the Puffins talking to? Just like their oversize board-book counterparts, My Big Wimmelpuzzles encourage kids to be storytellers and use their imagination to describe what's happening in every scene. It's a puzzle, adventure in hands-on learning, and literacy building tool--all in one! Featuring:
48 easy-clean, easy-grasp pieces
Finished puzzle measures 3 x 2 feet
Meets CPSIA and ASTM F963 safety requirements
Printed with non-toxic ink
Visit MyBigWimmelbooks.com to find the companion book and other puzzles and books in the series!
About the Author
---
Stefan Lohr is a book designer and illustrator based in Ravensburg, Germany. Lohr studied communications and design at the University of Applied Sciences in Stuttgart, Germany and then became a freelance illustrator and graphic designer. Since 1999, he has worked as an illustrator for many renowned children's book publishers and advertising agencies.